What is Email Marketing?
Email Marketing is a very important medium for marketing. It is part of Digital Marketing. In this concept, we are using emails to promote the business's products and services. It will help your customers to aware of the latest products and the offers services by integrating them into your marketing efforts. It plays a very important role in marketing strategy which helps generate leads, brand awareness, building relationships, engaging customers through different types of marketing emails.
Advantages of Email Marketing:
1.Cost-Effective
Email marketing is cost-effective than other marketing channels. In traditional marketing, you have to pay for printing. posters and ad spaces etc. It makes it cost-effective other than traditional marketing.
2. Email Marketing is targeted
In traditional marketing, if you will give an ad related to any product in the newspaper or on the television then there are no limits on who can see that ad. You choose only where to advertise based on the publication and channel's target audience and where your viewers and readers are interested. But in Email Marketing it is possible to segment your audience based on their interest and behavior. Also, you can send personalized messages to each user so it can lead to a higher conversion rate.
3. Email Marketing increases brand recognition
Email Marketing also increases potential customers for your business. In this, you can send the emails to customers with the subject line which will attract customers. In the first attempt, the people are not ready to buy your product but later on sending targeted emails to help you to stay top of mind with your target audience. So after when they want to purchase the product they will be more likely to choose your business.
4.Email Marketing is measurable
Email marketing campaigns are measurable. We can measure the performance of each campaign with the factors like open rate, bounce rate, and click-through rate, etc. These metrics will give you insights into customer behavior and interest.
5.Build Stronger customer relationships
Every customer of your product wants to know what is happening with your product and how they can get involved in this. So calling every customer on the phone is not possible for businesses. Email Marketing is there to bridge the gap. In this, you can also create a drip Email Marketing campaign to make the process smooth and easier. Drip campaigns are ongoing and they also take the user to the final conversion point.
6.Increase traffic to your website
To visit the customers to your site Email is an important aspect. You can include relevant links to your site in the email content. Also, you can include the links to your landing pages and the blog of your website.
If your product is having any updates or added some new feature then you can send emails to the customers to tell them about these new features.
For ex. Some online classes are having few seats left for their classes, and many of their potential customers missed this opportunity because they have not revisited your website you can send emails to them to fill these seats quickly.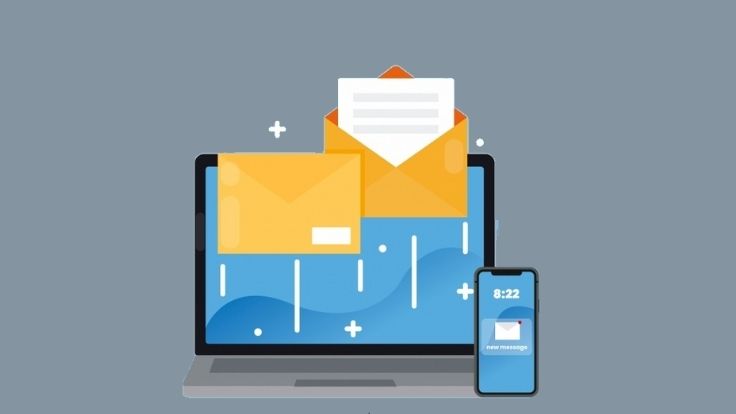 Factors to consider to improve the open rate of your Emails?
1.Use Eye-catchy Subject line
In every email subject line is important. Similar to article headline or ad title the subject line is also important in email. It will engage the people in the product you are offering.
Generic subject lines will not help you target the customers.
->Question: You can use a question in your email subject line to make it a more personal connection with the viewer who is viewing your email.
->The command: Sometimes it pays more attention to the person who wants to take some action.
->The list: With the list, you can make your information more compelling and easy to consume.
-> The announcement: The subject line of your email should be not too complicated if you are doing an announcement. It should be straightforward about what your email is about.
2.Find the best time to send the emails
There are certain times of days when you can send emails. You can segment your email list into 2-3 groups accordingly and send the emails at different times of the day like in the morning, afternoon, and at night. This will take extra time but you will know when your email is opened or when they are likely to open. This will help you to determine the best day or time to send emails to prospects.
3.Get to know your audience
You should know the need and requirements of your customer, but how much you know the people in your contact list. Do you know the topics they are interested in? Do you know why they have joined their email list? Do you know what questions they are asking and how to address them? Understanding your audience is a critical part of email marketing. When you will know more about the customers in what topics they are interested.
Do it in different ways:
-> Survey: Send a short survey to readers to know what topics they are interested in.
->Polls: Ask readers to take a quick one-question poll.
4.Avoid Spam Filters
Email filters are becoming more and more complicated. If your email gets up in the spam folder then your open rate will be lower. Because hardly some people open the mails in the spam folder as they are important. So for that avoid sending spam mails. The emails which contain all caps letters and words like "free", "sale" or "deal" are looks like spam. Also, your mail should not look like any company's brochure and it should not contain too many links.
5.Keep Your Email List Fresh
Also if you want leads from your email marketing then your email list should be fresh and quality. Also, review it periodically and remove the inactive emails. Also, remove the emails which are having yahoo.com.It will improve the open rate and the cost of sending mails to non-existence email ids.
6.Write Quality Content
While sending the email content is also important with subject line and sender name. It would be difficult if you are sending the emails at right time but the content is not proper then it will not generate clicks and sales.
Test Your Mail Again and Again
Testing your email is a key strategy for doing an effective email marketing campaign. In A/B Testing you are testing two different versions of emails. For example, if you are testing only the subject line of two emails then the mail which is having a good open rate is performing well.
Include  A clear CTA
The call-to-action "Learn more", "Sign up", "Visit us" is the bottom line of every email in EMail marketing. Your CTA should define the goal of your email. Keep the CTA button at the place where it is performing well whether it is at top of the email or te the end of the email content.
It is better to keep only one CTA in the email. Because if you keep more than one CTA then it is quite confusing and distracting to the user.
Resend Emails
In testing, you can play around with the subject line, CTA, and format of the email when resending it. Make sure that you should not resend the same content repeatedly. Instead, send another piece of content after few days to tell you that "Did you see the blog?"
If you are not getting clicks that you have expected then try a different piece of content with another subject line or trick to send the email.
Conclusion
Email Marketing is your online channel for online profits. The above techniques are useful to increase the open rate of your emails.